This year's Bach Week is set to be the most special yet! This week-long celebration of Johann Sebastian Bach features lectures, recitals and more.
The "cal poly career fair 2021" is the annual event that Cal Poly hosts in order to recruit students for their undergraduate and graduate programs. The event will be held January 18 to 22, and will take place at the university's campus.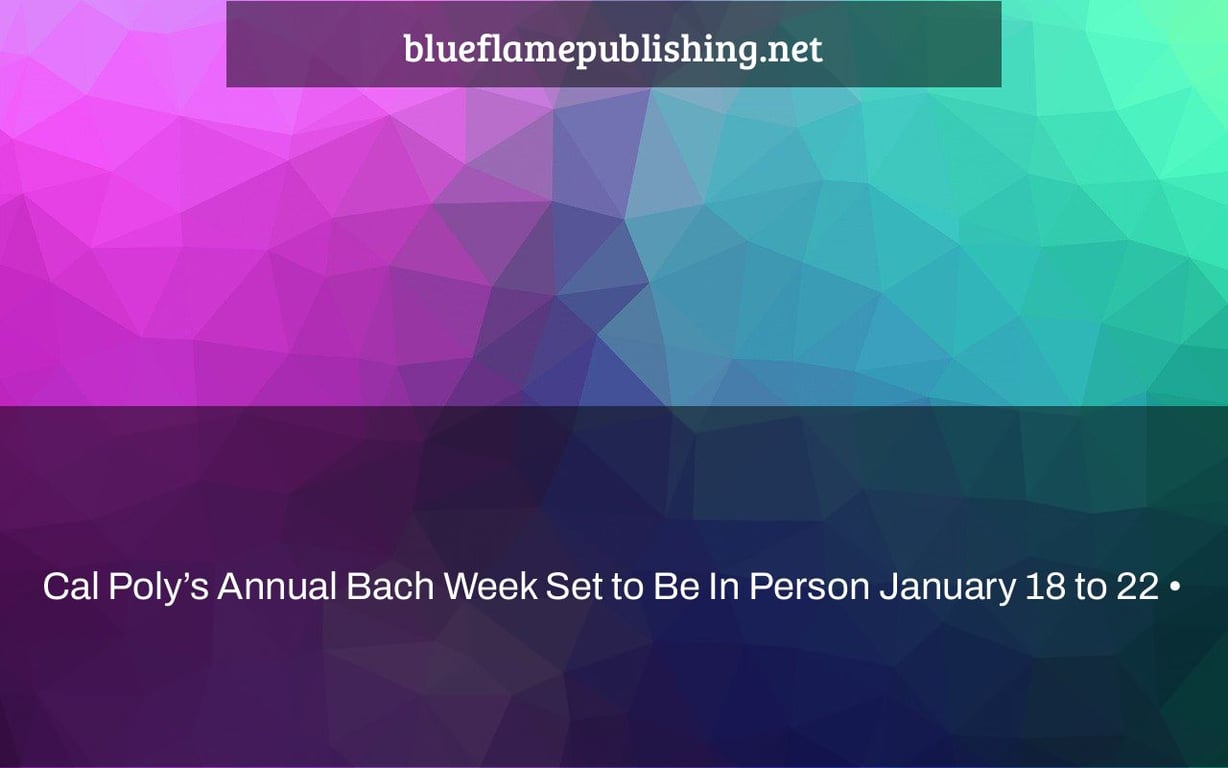 There are a variety of activities planned during Bach Week, including an organ performance and an Akademie lecture.
SAN LUIS OBISPO, Calif. — Cal Poly's Music Department will host its annual Bach Week in person from Tuesday through Saturday, Jan. 18-22, with seminars and concerts on campus and at San Luis Obispo's First Presbyterian Church.
An organ concert with an Akademie lecture, a chamber concert with vocal and instrumental guest artists playing on period instruments, two master courses, and a finale performance of vocal and instrumental compositions with a pre-concert lecture are among the activities that make up Bach Week.
On campus, the first few activities will take place:
We're going to get through this together, Atascadero
— On Jan. 18, an Akademie lecture and organ performance will take place in Miossi Hall of the Performing Arts Center (No. 6). David Arrivée, co-director, will give a lecture titled "Bach and the Organ" at 6 p.m. J.S. Bach was recognized throughout his lifetime for his mastery of and ability to improvise on the pipe organ, rather than as a composer. With musical examples performed by university organist Paul Woodring, the presentation will examine Bach's varied connection with this instrument. On the Forbes Pipe Organ, Woodring will perform a performance of Bach's organ music at 7:30 p.m.
— Guest artist Leif Woodward, cello, will teach Cal Poly students in instrumental repertoire from the Baroque period and give insight into the manner and delicacy of presenting a historically informed performance on Jan. 20 at 11:10 a.m. in Room 218 of the Davidson Music Center (No. 45). He will guide students in effective continuo playing at 12:10 p.m.
— Guest artists Kerry Ginger and John Buffett will train several Cal Poly vocal students in Baroque repertoire at 3:10 p.m. Jan. 20 in Room 218 of the Davidson Music Center (No. 45).
The following activities will take place at San Luis Obispo's First Presbyterian Church:
— A musical excursion to Renaissance Venice will be performed at 7:30 p.m. Jan. 21 with a program titled "A Musical Portrait of a Venetian Courtesan." Because she was able to evade many of the patriarchal constraints on women performing music, the courtesan enjoyed a unique social position. This concert will take you on a journey through this universe, from Barbara Strozzi's "high art" madrigals to San Marco maestri Willeart and Rore's "bawdy" Carnival songs in dialetto. Tesserae Baroque, a world-class period instrument group, will play the performance. The performance will conclude with works for solo voice and small instrument ensemble, including guest artist Rebecca Myers, soprano.
— A pre-concert discussion will precede the Bach Week conclusion performance on Jan. 22. Co-director Scott Glysson will give a talk at 6 p.m. on the history of musical arrangements of Psalm 130, as well as the background of J.S. Bach's Cantata "Aus der Tiefen rufe ich, Herr, zu dir" and Michel Richard Delalande's "De profundis." The "From the Depths" performance begins at 7:30 p.m. The text for one of Bach's first cantatas, "Aus der Tiefen rufe ich, Herr, zu dir," BWV 131, was taken from Psalm 130, which opens with the phrase "Out of the depths have I called unto thee, O Lord." Delalande, a French composer, composed his strong "De profundis" to the same text, but in a different language, some 20 years earlier. Both compositions will be played, and the concert will close with a suite of French music conducted by Tesserae Baroque musicians. In a side-by-side performance of these pieces, members of Cal Poly's Chamber Choir, Symphony, and professors join guest performers.
Tickets for the lecture and concert on January 18 are $10; tickets for the concert on January 21 are $20 for the general public and $10 for students; and tickets for the lecture and performance on January 22 are $20 for the general public and $10 for students. If you buy tickets to both the Jan. 21 and 22 performances, you will get a discount: $30 for the general public and $15 for students. The Davidson Music Center's programs are free to attend, however parking will be strictly enforced. Cal Poly's Transportation and Parking Services webpage has further information about guest parking on campus.
Cal Poly's College of Liberal Arts, Music Department, Instructionally Related Activities program, and Tevis Fund for Visiting Artists are sponsoring the programs. The Handler and Steiner Family Fund contributes additional funds.
Visit the Bach Week website or contact the Music Department at 805-756-2406 for further information.
As an example:
As if Loading…
Related
Watch This Video-
The "mustangjobs" is Cal Poly's annual Bach Week, which will be held January 18 to 22. The event includes a variety of performances, lectures, and workshops.
Related Tags
cal poly career fair list of companies
cal poly career services alumni
cal poly portal
cal poly recruiting
cal poly slo career center